Gia's Shout Out: Children's Titles!
This week:
This week I am shouting out a sweet story about bunny friends who collect things in jars. It's called: In a Jar by Deobrah Marcero. Here's the description: "Llewellyn, a little rabbit, is a collector. He gathers things in jars–ordinary things like buttercups, feathers, and heart-shaped stones. Then he meets another rabbit, Evelyn, and together they begin to collect extraordinary things–like rainbows, the sound of the ocean, and the wind just before snow falls. But one day, Evelyn has sad news: Her family is moving away. How can the two friends continue their magical collection–and their special friendship–from afar?"
My family and I like to take nature walks and collect treasures to put in jars and alongside our window panes. Maybe this book can inspire you to enjoy some spring walks and bond over little treasures you might find along the way!
We have a new important board book I wanted to shout out this week! It's called Yes! No! A First Conversation about Consent by Meghan Madison, Jessica Ralli, and Isabel Roxas. My kids are really enjoying this book about consent and permission to kiss and touch. As explained in the premise, "This topic-driven book offers clear, concrete language and imagery to introduce the concept of consent. This book serves to normalize and celebrate the experience of asking for and being asked for permission to do something involving one's body. It centers on respect for bodily autonomy, and reviews the many ways that one can say or indicate 'No.'" This book gave my kids self esteem and a feeling of pride and power over their bodies! I can't recommend it enough.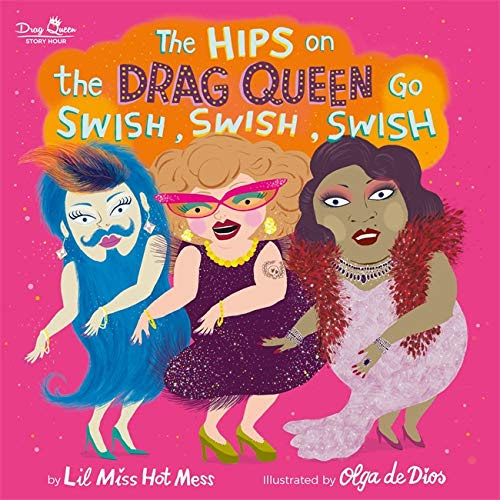 I have a delightfully fun shout-out this week to keep you and your little ones giggling: The Hips on the Drag Queen Go Swish, Swish, Swish by Lil Miss Hot Mess with illustrations by Olga de Dios. Readers can sing and dance along to this flamboyant rendition of "The Wheels on the Bus" and learn about the costumes of drag queens. With bright color illustrations and catchy lyrics, I know my kiddos have asked me to read it many times. Also check out the second book in the series--If You're a Drag Queen and You Know It.
This week we are really enjoying different shapes! Our new interest is based particularly on The Shape Trilogy by Marc Barnett with illustrations by Jon Klassen.
In the book, Circle, (our favorite one) Triangle breaks a rule during hide and seek and discovers something interesting behind the waterfall.
In the book, Square, Square works on a project for his friend and finds it more difficult than he expected, she loves it anyways.
In the book, Triangle, Triangle plays a sneaky trick on his friend Square.
The classic Jon Klassen illustrations with Marc Barnett's wry humor are such a treat for bedtime reading. If you're looking for picture books that are quirky and unique, these are for you. These are great fictional STEM reads that inspired the new Shape Island TV show and have us giggling and pondering new things about the world.
After the snowfall this week, my son is finding comfort in reading and re-reading a Passamaquoddy tale called, Thanks to the Animals by Allen Sockabasin with illustrations by Rebekah Raye. During the Passamaquoddy winter migration in Maine, Baby Zoo Sap falls off the family bobsled and the forest animals hearing his cries, gather to protect him until his father returns to find him.
My son found this story so comforting and loved the gathering of the animals around the crying baby in the woods. Each night since, he's been piling animals stuffies around in his bed pretending to be like little Zoo Sap falling asleep in the woods. This is a beautiful story for all ages that celebrates Maine Native American storytelling.
This week I'm shouting out a picture book for all the kids who love cars and trucks! It's called Rapido's Next Stop by Jean-Luc Fromental and pictures by Joëlle Jolivet. This oversize picture book is fantastic for many reasons. The story follows Rapido the messenger and his van throughout the city as he delivers packages. Clever flaps on every page give hints into people's lives and clues as to what he's delivering, and where. The objects that Rapido delivers are represented as symbols, which readers can decipher from the setting and the rhyme. Not to mention, the unique illustrations are really fun with lots to look at on each page. If you're looking for a great interactive picture book, this one will be a hit!
This week as we near Valentine's Day, I'm shouting out a lovey-dovey book with beautiful illustrations. It's called, A Hug is for Holding Me by Lisa Wheeler with illustrations by Lisk Feng. This is a sweet and cozy book that invites us to think of all the ways we see hugs in nature. A cocoon can be a sweet hug to the butterfly inside, a shell hugs the mollusk inside, an egg hugs the bird about to hatch.
The illustrations are my favorite part of this book, with rich colors and lots of florals and ocean blues. This is a great book to cuddle up with at the end of the day! Because the best hugs come from family and friends.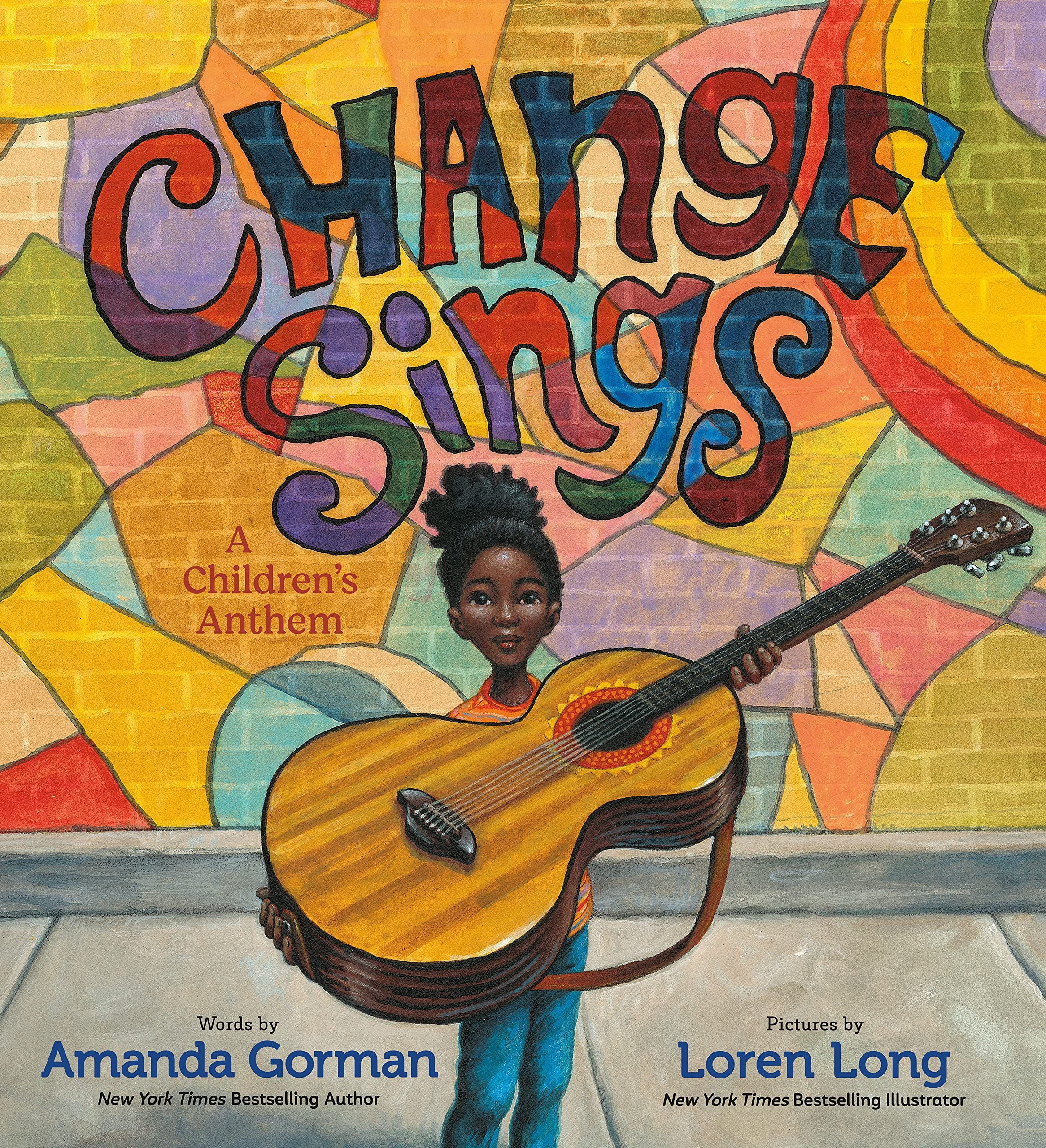 This week we're celebrating Black History Month! And so, I'm so excited to shout out Change Sings by Amanda Gorman. The description reads, "In this stirring, much-anticipated picture book by presidential inaugural poet and activist Amanda Gorman, anything is possible when our voices join together. As a young girl leads a cast of characters on a musical journey, they learn that they have the power to make changes—big or small—in the world, in their communities, and most importantly, in themselves."

This book inspires children and adults alike, and is such a beautiful depiction of what can happen when we come together to make a change in our communities. Gorman's words are truly amazing, as usual, and really shine when put together with Loren Long's illustrations. This book is a fantastic introduction to Black History month for a wide range of readers.
This week we're having a lot of fun with a very silly book called Belinda in Paris by Amy Young. This backlist picture book was written in 2005, but it is so cute! I had to make sure that kids were still reading it.
The story centers on Belinda the Ballerina who has just flown into Paris, but has lost her ballet slippers in luggage. Unfortunately for her, her feet are so large that it is very difficult to find replacements right before her big show. So Belinda and her friend must find the materials to make shoes right before her performance. They run into all kinds of calamity along the way!
Will Belinda make it to the show? You'll have to read it to find out. If you're a parent who likes to use a silly French accent, this one is definitely for you.
With all the unpredictable weather lately, we've been breaking out paintbrushes, paper and glue, fort-making materials, and more! It's a good time of year to get creative. With that in mind, I'm shouting out, I Have an Idea! by Hervé Tullet.
From the creator of the bestselling Press Here picture book, Tullet brings an inspirational story of how an idea can appear and what to do once you've experienced it.
"Oh! There it is: an idea. It's new. It's different. There's nothing like it. It's a little like finding a seed, which grows and grows and grows…!"
Sparkling with visual wit and bubbling with imagination, I Have an Idea! is a richly emotional exploration of the creative process: from an initial tentative inkling, to the frustration of chasing the wrong notion, to finally the exhilaration of capturing—and nurturing—just the right idea. I Have an Idea! is a scrumptious cloth-spined package of color and inspiration.
Perhaps this fun and abstract adventure-book can spark something in your family's brain when some of the January weather keeps one cooped up!
This week I'm shouting out Farmhouse by Sophie Blackall (A two-time Caldecott Medalist!). Our new Children's Librarian, Mary Randall, included this book in her first order for the children's room and it is a book that speaks to my house-fixing, vintage-loving soul.
Here is the blurb about the story, "Step inside the dollhouse-like interior of Farmhouse and relish in the daily life of the family that lives there, rendered in impeccable, thrilling detail. Based on a real family and an actual farmhouse where Sophie salvaged facts and artifacts for the making of this spectacular work, page after page bursts with luminous detail and joy. Join the award-winning, best-selling Sophie Blackall as she takes readers on an enchanting visit to a farmhouse across time, to a place that echoes with stories"
My children love the illustrations in this book and the story of the family who lives in the old farmhouse. Give this book a look and check out some of our other new and freshly cataloged books!
This week I'm shouting out: Seaside Stroll by Charles Trevino with pictures by Maribel Lechuga. With the warm winds we've been experiencing, I've been taking some winter beach trips with my kids to get some fresh salty air in our lungs. This picture book gorgeously illustrates the beach during wintertime and the delights to be found. So, bundle up! It's time for a sandy, snowy beach walk where every word starts with the letter S. A mother and her daughter stroll down to watch the sunset when, oops! The girl drops her doll into the tide pool. After a sudsy steam in the bath, they snuggle up for a bedtime story. This one's a splendid addition to your bedtime story rotation and might inspire you to see what's happening at the beach in the off-season.
Time to cozy up with a sweet and snowy holiday book this week. I'm shouting out, Snow Globe Wishes by Erin Dealey with pictures by Claire Shorrock. I love this book because it illustrates Maine's wild and unpredictable weather forecasts. The lyrical rhymes are also a strong point as we flow with the story from when the power goes out during a big storm, throughout the night, and into the beautiful snowy morning.
The family eats Chinese takeout on the floor next to their candles and roaring fireplace and makes a blanket fort to keep cozy. "Snow globe wishes, Close your eyes. Snowplows rumble lullabies," is one of my favorite lines from the story. "Magic sparkles, beckons, swirls– Come outside dear boys and girls!" Families shake their busy lives and play in the winter wonderland. The illustrations show a small town joining hands around a snowy tree with a star on top that's reminiscent of the Whos from Whoville in the Grinch who Stole Christmas. The last few pages call for Peace on Earth for all throughout the year! This is one I'll try to read every holiday season.
The magic of the first snowfall has inspired me to shout-out this book this week: The Reader by Amy Hest with illustrations by Lauren Castillo. This is a sweet and simple story about a small boy who's on a mission to bundle up in the snow with his suitcase and his dog and climb the hill in his backyard.
Up and up they climb with the little boy's red sled while the wind blows in his heavy boots. They make it to the top and have all kinds of snow fun together; the boy and his dog. "It is shivery-cold at the top of the world. But there are warm drinks and crunchy toast for two." Then they sit on the sled and they read a book together. Then they pack up their things, wrap themselves up tight and slide down the hill!
This week I'm getting into the holiday spirit! I want to shout out, Last Stop on the Reindeer Express by Maudie Powell-Tuck with pictures by Karl James Mountford. This is a magical book about Mia, a young girl missing her grandfather at Christmas, so she writes him a special card on Christmas Eve.
Her mother says, "Christmas is nearly here, I'm afraid it won't reach him in time." While they shop the winter market, Mia discovers a magical letterbox that twists to reveal a secret door that leads to the Reindeer Express. As Mia flies through the air on her reindeer to deliver the letter to her grandfather, she waves hello to the people below in cities decked in holiday decorations. Will she reach her grandfather in time?
My family loves this book because of the magical elements in this story, but also because the illustrations really add to the sparkle of it all. There are cutouts on the cover and on each page to reveal little doors and pockets of beauty. There are little flaps where we can read the letter to her grandfather or open a window to see the reindeer waiting outside.
I highly recommend this enchanting book during the holiday season, particularly if you're missing someone who lives far away.
As we make our way into December, the weather is shifting to wintertime temperatures! Brrr! We've been having conversations about the shift to the winter season with the book, Goodbye Autumn, Hello Winter by Kenard Pak. Pak is one of my favorite modern illustrators, and he's a wonderful writer too.
At the start of the book, a brother and sister watch the leaves fall to the ground and notice how the evenings grow longer with long shadows stretching across the street. Slowly as the pages turn, the lights show up in the town and the stars shine bright in the cold wintery evenings. The snow starts to fall, and we say, "Goodbye autumn, hello winter!"
I've been struggling to teach my son the act of "being thankful" this year. But with the book, All of Me! A Book of Thanks by Molly Bang, it's been more tangible for his little 4 year old brain. In this book, a child is thankful for the things that are most immediate to a youngster–including hands, feet, eyes, and ears. It introduces the wonder of our body's functions and how amazing it is that we're able to do what we like to do. Our feet can hold us up when we stand, walk and jump. Our hands can grip and throw and hold. Our arms can hug and bend. Our heart pumps life through our body. How amazing!
In the last few pages, the boy in the story recaps his day, saying, "Today I did so many things. Today I felt so many feelings. I felt curious, and excited, and angry, and brave, and sad, and scared, and thankful, and calm. Today I feel loving–loving and perfectly safe. And right now I also know that I am part of this whole world–this universe! All this is my home. I am ALIVE."
This week I have a powerful read in honor of our Native American Heritage Month's display in the children's room. The title is We Are Water Protectors by Carole Lindstrom with illustrations by Michaela Goade. Inspired by the many Indigenous-led movements across North America, We Are Water Protectors issues an urgent rallying cry to safeguard the Earth's water from harm and corruption.
"Water is the first medicine, Nokomis told me. We come from water. It nourished us inside our mother's body. As it nourishes us here on Mother Earth. Water is sacred, she said…. We are Water Protectors! We Stand!"
The illustrations in this book are some of the most beautiful I've even seen. It's a great book to introduce to your family as we have conversations about Native American tradition for Thanksgiving. It may inspire us all to feel grateful for the clean water coming out of our faucets and how important it is to protect our natural resources.
The book we want to shout out this week is, "The More We Get Together," written by Celeste Cortright, illustrated by Betania Zacarias, with an accompanying CD sung by Audra Mariel and Kena Anae.
This book is a terrific adaptation of the classic, "The More We Get Together," song that adds in an age-appropriate introduction to recycling, activism, community gardens, teamwork and more. We're particularly focusing on gratitude this week as Thanksgiving plans are being made across the country.
The song goes, "Let's gather round the table, whenever we're able. Let's gather 'round the table with all of our friends.And with every plateful, we'll feel ever grateful. Let's gather 'round the table with all of our friends. 'Cause your meal is my meal, and my meal is your meal."
I love the books that integrate text, music, and illustration for a more complex experience. This book even has a Youtube animation of the story as well!
Hope this wonderful book & music can inspire some togetherness with your friends and/or family!
This week I'm shouting out a book that is really, really cute and so applicable to kids and adults alike! It's called Noodle and the No Bones Day by Jonathan Graziano and illustrated by Dan Tavis. Noodle is a pug who's human is named Jonathan. They like to do all kinds of fun sightseeing together, and walking and saying hi to their neighbors and friends. But one day, Noodle does not want to go on a walk with Jonathan. He tries to pick Noodle up and he flops back on his bed like he has no bones.
"But what about all our favorite activities? Jonathan asks. Noodle just stares at him. "Would you rather snuggle instead?" The pug sneezes, "Yes!" The two of them enjoy a relaxing, no bones day together eating snacks on the couch. Most days thereafter were mostly bones days, and other days were no bones days–"Great days for staying in bed, snuggling with a blanket, and getting lots of belly rubs. Bones or no bones, they are all good days." This is such a great message for kids that rest and connection with family is important!
This week I'm shouting out a favorite spooky read from my childhood that I adored, and now my kids adore too! It's called, The Berenstain Bears and the Spooky Old Tree by Stan and Jan Berenstain. This is such a fun and interactive book to read with kids. There's something very rhythmic about the text that makes this one so enjoyable. The book will ask, "Do the bears dare go into that spooky old tree?" or "Do they dare go up that twisty old stair?" or "Do they dare go into that spooky old hall?" answering each time with a resounding, "Yes! They dare!" By the end of the book the bears all have the shivers and run back home to their parents' house, "Home again. Safe at last." This is a great one for Halloween! I know the secret doors, twisty stairs, and spooky animals delight my family this time of year!
This week's shoutout is Brown is Beautiful with words by Supriya Kelkar and pictures by Noor Sofi. This book is astoundingly beautiful. For all children who have brown skin, I can speak for myself when I admit that I grew up feeling not represented in the media that I saw in books and on TV. That often made me feel as if my skin and eye color and hair was less beautiful than others around me.
This book takes place on an autumn day on a hike with her grandparents. In it, a young Indian-American girl makes note of all the things in nature that are brown, too. From a nurturing mother bear, to the steadiness of deep twisting roots, to the beauty of a wild mustang, brown is everywhere! On her way, the girl collects the beautiful brown things she encounters as mementos for a scrapbook.
"Brown is stable. Twisted roots tunneling deep. Through wind and rain, the tree will keep. Brown is nurturing. Kindling logs fueling a hungry fire. Dark soil helping plants grow higher."
It's a perfect autumn-inspired read to introduce the idea of different skin colors with your children. Enjoy!
This week I'm shouting out a very simple, but endearing board book by Elise Gravel called I am Scary. In this little book, a monster jumps from behind a tree and says, "Raaaarh!" to try and scare a little girl and her dog while walking in the woods.
"Look at me!" he says, "I am veeerry scary!" and he points to his pointy teeth and claws. He tries various growls and Grrrrs! to try and scare the girl, but she says, "I don't think you're scary. I think you're cute." and she walks over to the monster and hugs him. He first looks upset, but then looks happy and content after trying so hard to be scary. That's it! That's the whole book.
I really love Elise Gravel's illustrations and writing. This sweet and simple book has become a huge favorite in our house. For all the kids who feel unsure around Halloween and Day of the Dead festivities, this is a great one to assure all the feelings and to encourage hugs and giggles.
This week we are giggling A LOT. We've discovered my absolute favorite Mo Willams book, Nanette's Baguette. The beloved author of the Pigeon books and Gerald and Piggie, has this fantastic rhyming gem of a picture book as well. I'm so glad I found it, because it's a hilarious story.
Our main character, Nanette, is a frog who has been entrusted to retrieve the baguette from the bakery for her mother. But the bread looks so delicious, she can't help herself to take a bite. And then the whole thing! "There is no more baguette! Nanette begins to fret. Will mom be upset? Will mom regret she let Nanette get the baguette? Nanette is beset with regret!"
All's well that ends well, and maybe Mom herself will not be able to resist the deliciousness of a fresh baked baguette! What a super fun story. Maybe it will even inspire some bread baking.
We had such an amazing time at the Bath Book Bash this year! I left with my arms full of children's books and my heart full of new connections with local authors. This week I'm shouting out a book that is beloved in my house, Hip, Hip… Beret! written by Melanie Ellsworth with pictures by Morena Forza. I was able to talk with Melanie on the gazebo about her writing process and her love of language play. It's absolutely apparent in this book which plays a lot with rhyming!
The description reads, "A playful and humorous picture book about what happens to Bella's beret when the wind sweeps it away!
Grand-père gifts Bella the hat she'd always wanted – a beret! But just as she places it on her head, a gust of wind whisks it away. When the beret lands in a chef's pan . . . hip, hip, soufflé! When it lands on the head of a dancer . . . hip, hip, ballet! The wind continues to sweep the hat farther and farther away. Will Bella ever get back her beloved beret?"
I might mention that the hat in the book has a fuzzy texture which is always engaging for our sensory loving readers. The pages are also very thick and durable which is something I always appreciate for some peace-of-mind reading with our littles. It was a wonderful experience chatting with all the authors from the Book Bash and I look forward to shouting out more of their work. We love our local authors!
This time of year gives me a "let's-get-stuff-done" attitude that I think is inspired by the back-to-school weeks when kids start rolling up their sleeves and back into classrooms. The book I'm shouting out this week has that same spirit! It's called, Someone Builds the Dream by Lisa Wheeler and Loren Long. The book description is written like this, "This is an eye-opening exploration of the many types of work that go into building our world–from the making of a bridge to a wind farm, an amusement park, and even the very picture book that you are reading.
An architect may dream up the plans for a house, but someone has to actually work the saws and pound the nails. This book is a thank-you to the skilled women and men who work tirelessly to see our dreams brought to life."
I particularly love this book because it shows how many people it takes to build a dream.
"All across this great big world, jobs are getting done
by many hands in many lands. It takes much more than ONE."
This team building energy is infectious and inspiring as you read through the book and admire the gorgeous illustrations. There is incredible representation throughout the pages for gender, disability, and skin color. It's a great one for kids who love construction vehicles! Definitely check this one out next time you're in.
Happy September! I love this month. This week I'm recommending a book that celebrates the joys of a wild rainstorm. It's called Blue on Blue by Dianne White with illustrations by Caldecott Medal winner Beth Krommes.
I particularly love Beth Krommes' illustrations. This picturesque book starts with a farming family enjoying a beautiful day, when dark clouds start to roll in.
"Singing, swinging, outdoor play. White on blue on sunny day. Clouds swell. Winds blow bolder. Weather changes. Air grows colder. Gray on gray. Dark and glooming. Black on black. Storm is looming!"
The children in the story hurry inside with their mother, while the father guides the farm animals into their pens and barn. The rain pours down onto the seaside farm. They wait for the last few drops and then are able to enjoy the "muddy, muddy everywhere!" Bathtime and bedtime ensues after the crazy energies of the day. This is a simple, but beautiful story to share with your littles.
Hey all! Are you feeling the back-to-school vibes? Whether you're homeschooling or sending kiddos onto the bus, this book has us all feeling very chill. That's because I'm shouting out: Pete the Cat: Rocking in My School Shoes.
If you haven't yet discovered the groovy Pete the Cat series — I would highly recommend them! In this story, Pete the Cat has his new red shoes on for his first day of school. He's got his backpack and his lunch and he's singing his song, "I'm rocking in my school shoes, I'm rocking in my school shoes, I'm rocking in my school shoes!"
Pete has never been to the library before. But does he worry? Goodness No! He finds his favorite book and reads in his school shoes. This is a great one to put the nerves and jitters at ease for that day's transition and on. "Because it's alllll good!" It also comes with a link to a song for even more Pete the Cat entertainment and reassurance. Happy reading!
This week I am shouting out a beautiful treasure of a book written and illustrated by Astrid Sheckels called Nic and Nellie. In Nic and Nellie, Nic has been looking forward to spending a whole summer away with her grandparents on their island in Maine. But when it's time for her to leave, she cries tears of homesickness. This one is a "heartwarming story of a girl and her beloved dog, Nellie, who slowly learn that new places really aren't so scary, and that often friends can be found around every corner, even in old row boats, tidal ponds, and stinky mud flats."
Sheckels' illustrations are some of my favorite of all time. She captures the Down East feeling of Maine in a modern but timeless way. Definitely check this one out for a sweet story but also because the art is something to really marvel at! It's a great end-of-the-summer recap book to share with your littles.
This week I am shouting out a fantastic book by Raúl the Third called ¡Vamos! Let's Go to the Market. This book is so much fun! It's a different format than a usual bedtime storybook; which is good for switching things up. My son really loves this Little Lobo series because it's very similar to the format of a Richard Scarry book where there are lots of things to see and parallel storylines happening all through the book. The main plot follows Mexican American Little Lobo and his dog Benabé as they head off to the market to deliver their goods to various shops. This is a book to read alone, to read together, to read in pairs, to read with someone who only speaks Spanish, or someone who only speaks English, the enjoyment and possibilities are endless! We particularly loved reading this one as a Wonderbook since it had fun music and Spanish accents to accompany the text and illustrations.
If you like this one, Raúl the Third has many other Little Lobo books to explore like ¡Vamos! Let's Go Eat and ¡Vamos! Let's Cross the Bridge. You'll love the retro illustrations and Mexican American culture all through this book. Happy Reading!
Hey readers! This week I've been reflecting on this summer and how amazing it is to be able to go to the beach and gather with family once again. It's something I will not again take for granted!
I'm shouting out a really special book called, All the World by Liz Garton Scanlon with illustrations by Marla Frazee.
This book feels a lot like poetry. It's full of beauty, and joy, and reflection. It starts by showing a family gathering shells at the beach. It celebrates the goodness of harvesting your crop of vegetables, but also the disappointment of stumbling and falling and spilling your things in the rain. There's a lot of push and pull in the words that explain that days can be great! But also hard. At the end of the day, we can always gather with family and/or friends to make things better. I wish I could quote the whole book, because all of the words feel really meaningful. But here are a few lines that I love:
"Nanas, papas, cousins, kin. Piano, harp, and violin. Babies passed from neck to knee. All the world is you and me. Hope and Peace and Love and Trust. All of the world, is all of us."
I challenge you to read this one out loud without shedding a tear! It really is a powerful one.
This week I am shouting out an inspirational, pick-me-up type of book. It's called The Magical Yet by Angela Diterlizzi with art by Lorena Alvarez. This is one of my absolute favorites and it's new to the PFL Children's room, so I'm so excited to shout it out.
Our story starts with a girl who is frustrated because she has fallen off her bike, once again. She feels like quitting because it's so hard! But then the book says, "Don't give up now! There's a magic game changer– a most amazing thought rearrange-er! Someone to show you how good you can get: Now introducing… The Magical Yet!" The illustrations in this book are absolutely gorgeous. The "magical yet" is a little characterized cartoon that hovers nearby many of the kids in the book who are trying to learn different things. The rhyming language in this book is inspirational (for all ages!) and I'll admit to shedding a tear or two while reading it with my son.
"So no matter how big (or old) you may get, you'll never outgrow–you'll never forget–you can always believe in the magic of Yet."
This week we are tuning into summer with our ears. We are loving the book, A Lullaby of Summer Things by Natalie Ziarnik and Madeline Valentine. This book evokes all the senses of summer, but especially all the wonderful sounds that accompany a day of being with family at the beach. This is the perfect book to read before bed after a long, hot day. The words read like poetry, and are beautiful and lulling.
"A screen door sings, a lullaby of summer things:
Buckets tumbling. Shovels jumbling. Bare feet skipping. Wet towels dripping. And you remember the beach that day–the sea so cool, the waves at play. A clock chimes eight. Dad shuts the gate. Old floorboards rattle, then stair steps tattle."
The book shows how it can be hard to leave the beach after having so much fun with friends and family. The illustrations show a beautiful mixed race family with the father wearing a baby carrier and being an involved parent, which is something I always appreciate seeing pictured! "A cricket strums. Downstairs, Mama hums. In the dusky evening light a sleepy house says, goodnight." This is the perfect summery book to end your evenings! Happy reading!
This week we're shouting out a classic! It's called Jamberry by Bruce Degen. This is my favorite picture book to accompany the hot, hot berry picking days of summer! This picture book is beloved because of its joyful illustrations and fun wordplay with all kinds of different berries.
A boy and a berry-picking bear go romping through a fantastic world of berries in search of making jam. "Quickberry! Quackbarry! Pick me a blackberry! Trainberry, Trackberry, Clickety-Clackberry. Rumble and ramble in blackberry bramble. Billions of berries for blackberry jamble."
As you can imagine, this kind of wordplay elicits all kinds of giggles at bedtime. Can you imagine being buried in berries in a jam jamboree? How fun! Definitely check this one in its classic form, or as a board book for our youngest readers!
Have you built any sandcastles lately? This week I'm shouting out, The Sandcastle That Lola Built by Megan Maynor and pictures by Kate Berube. This is a fun, summery spin on the classic "The House That Jack Built."
This book is a great build-up story that centers on Lola building a sand castle at the beach. She ends up recruiting new beach friends to add their own special parts to a massive sand castle. There are accidents, set-backs, and cooperation between new friends which makes the book both fun to read and also realistic.
As the castle grows bigger and beautiful, we read, "These are the shells — that lead to the moat — that surrounds the wall — that protects the castle — that holds the seaglass — that signals the mermaids — from the tall, tall tower — of the sandcastle that Lola and Frisbee Dude and Little Guy and Minnesota Girl built."
My son and I have great fun reading this story, talking about the feelings that come with watching something you've spent time building come crashing down and then building it up again. There are also adorable illustrations and an I-Spy element of looking for the mermaids in the water and in the clouds. Since reading this book, my son is particularly keen on collecting shells and seaglass for castles and mermaids. Ahh! Summer magic.
Wowee! What a Fourth of July weekend!
This week we're shouting out one of my favorite summery books that has beautiful illustrations of family gatherings. It's called, Pie is for Sharing by Stephanie Parsley Ledyard with illustrations by Jason Chin.
This book is full of berry pie, fireworks, family fun, beach days, and sparklers. Maybe you've experienced some of those things lately! It has a beautiful message and illustrations of all the things in life that are best shared. The tastiest one being, of course, pie.
"Hideouts and treasures, these are good to share…a boat, a stream, your towel warmed by the sun. Cousins, sticks, stones from your pocket…These are for sharing. Just like pie."
There's a wide range of skin colors represented in the drawings which I always appreciate. There's also acknowledgement that sharing is not always easy, which I find is important to talk about with children.
This is one of my favorite books to pick up around the Fourth of July to celebrate summer togetherness!
This week my family and I are feeling inspired to speak out for social justice! We're shouting out, Say Something! by Peter H. Reynolds. When the world feels heavy, I try to encourage our kids to find ways to help.
This book shows all the different ways we can be inspired to speak up with what we have to say. Whether it be, poetry, art, fashion, planting a seed, making signs, whispering really small, or shouting really loud! This book points out that there are many ways to make a difference.
Reynolds writes, "The world needs your voice. Mine? Yes, yours. Go Ahead… it doesn't need to be perfect, as long as it's from your heart… So when you're ready… SAY SOMETHING!"
Peter H. Reynolds' illustrations and messages in his books are beautiful and full of hope. His messages are soothing for kids and adults alike!
We have arrived to summer in Maine, hooray! This is a very simple book–particularly great for those nights where you need a quick read for bedtime. Nikki McClure is the author and illustrator of this book, and her high contrast illustrations are very eye-catching for kids and adults alike.
As early spring shows signs of life poking through the snow, the boy in the book asks, "Mama is it summer yet?" and the mother answers, "Not yet, little one…Soon warmer winds will blow." The boy asks the same question for many pages until the end when the mother exclaims,
"Yes! Oh yes, my little one! The honeybees are in the flowers. The sun is warm on your round belly. The berries are juicy and sweet. My little one, it is summer now!" If you are celebrating the beginning of summer like we are, this is a perfect book to incorporate into your days and nights.
Happy Summer Reading, friends! At the Patten Free Library there are oceans of possibilities for reading material, but this week I am keeping it local to the bathtub. I am shouting out, Off to See the Sea, by Nikki Grimes and pictures by Elizabeth Zunon. This book is such a beautiful depiction of an evening bath time together with family. It's a magical journey from the first whisper of "bath time," to watching the water swirl down the drain.
There is treasure hunting and waterfalls and dueling tugboats in our magical tubtime sea. The illustrations and poetry of the language in this book make it really stand out from other bathtime books. I can imagine it being a real inspiration for children to take a bath when they might not be feeling motivated to do so!
Hello Readers! Did you know our summer reading program is starts June 17th? There are OCEANS of possibilities, but I wanted to shout out, Julian is a Mermaid by Jessica Love to get you started. Here is the book's description:
This beautiful picture book centers on Julian who is riding the subway home from the pool with his abuela one day, when he notices three women spectacularly dressed up. Their hair billows in brilliant hues, their dresses end in fishtails, and their joy fills the train car. When Julián gets home, daydreaming of the magic he's seen, all he can think about is dressing up just like the ladies in his own fabulous mermaid costume: a butter-yellow curtain for his tail, the fronds of a potted fern for his headdress.
But what will Abuela think about the mess he makes — and even more importantly, what will she think about how Julián sees himself?
This book is one of our favorites for June and is such a beautiful representation of individuality and expressing your true self.
It's Pride Month! And with that means lots of books on love and acceptance and celebrating LGBTQ+ voices. Not to mention all the wonderful illustrations that come in a rainbow of colors! This week we're shouting out a wonderful ABC book called, Pride Puppy, by Robin Stevenson and Julie McLaughlin.
When the book starts, a family with non-binary parents are getting ready for their local Pride Parade and bring their pup with them to celebrate. They're having a great time eating ice cream and celebrating with the crowd when–oh no! The puppy gets lost in the parade.
Definitely check out this lively, rhyming book with the opportunity to find all the items that start with "A" and "B" on each alphabet page. Happy Reading!
I am so excited to be shouting out one of my very favorite Maine authors and illustrators, Chris Van Dusen's, NEW children's book, Big Truck Little Island.This sweet story is based off of a true happening on Vinalhaven Island off the coast of Maine.
In Van Dusen's classic style, he has fantastic rhymes and gorgeous, colorful illustrations of a village on the coast of Maine. In this story, a large truck and trailer are being towed across the sea. When it tries to venture down the twisty little roads on the island, it gets stuck! All the islanders trying to drive on either side of the truck have some big problem solving to do to make sure they can get to where they need to be. "Barry said, 'Listen, Let's all exchange cars. We'll borrow yours and then you'll borrow ours!'" This book is such a delight.It's a great companion to our other Van Dusen favorite, The Circus Ship, which is also based on a true story from Vinalhaven Island. We love our Maine books and authors!
This week I'm shouting out one of my very favorite classic picture books, Madeline, by Ludwig Bemelmans. It has been such a wonderful experience to read this classic with my son that I enjoyed so much at his age. There is something so comforting about the first few rhyming pages,
In an old house in Paris,
That was covered in vines
Lived twelve little girls
In two straight lines.
Madeline is our endearing, courageous heroine who cannot be frightened by tigers or mice and overcomes her stay at the hospital. The rhymes in this classic are still beloved even after 75 years. We've been working our way through the whole Madeline series by Bemelmans and watching the wonderful TV show adaptations narrated by Christopher Plummer which closely follow the books and the rhymes. It's opened up lots of discussion about French customs and what it would be like to grow up in an orphanage. Do you have any favorite classic picture books? It's been really fun to relive the joy of reading these classics together as a family. Happy Reading!
As we near Mother's Day weekend, I've been turning to some more of my favorite, fuzzy feelings books that are full of love and appreciation for our family. The title I'm shouting out this week is, Under the Love Umbrella, by Davina Bell with illustrations by Allison Colpoys.
The illustrations in this book are absolutely stunning. Colpoys uses really unique colors in this book. There are a lot of neon oranges, pinks, and lavenders that make this picture book really pop!
Not only are the pictures really special, the message in this book is really heartwarming. We're meant to imagine ourselves safe under a love "umbrella" that shelters us from the things that can make life really challenging for a child. "Whatever you fear, come close, my dear. You're tucked in safe for always here. And I will never not be near, holding our love umbrella. In every weather it's us together. My love for you goes on forever. Be still, breathe deep, wherever you sleep. You're under my love umbrella."
There is great skin color representation in this book, as well as parents of all genders. I've been using my umbrella often the past few weeks to my son's delight. If you're looking for a spring inspired bed-time book that helps you bond at the end of the day, this is a great one to request. Not to mention, the author instructs to try and find all the umbrellas hidden throughout the book — so it doubles as an "I Spy!"
This week we are really starting to see things sprout into spring! We are having a lot of fun with Todd Parr's The Spring Book. Parr uses so much color in his books that are so delightful for kids and adults alike. It especially works for this colorful time of year. On each page he writes and illustrates some of the many wonderful holidays and activities that happen in the spring.
He writes, "Spring is a time to dance in the rain. Celebrate traditions with family and friends. Play hide and seek. And love the Earth!… Now go roll down some hills! Happy Spring!" Todd Parr is an author and illustrator we always reach for because of his silliness and bright illustrations. His books always evoke feelings of kindness, acceptance, love, and excitement.
This week I'm shouting out a series of board books by Jessica Spanyol that we're really loving. These are simple books about playing together with friends with the characters Clive and Rosa. I particularly love this series because they are, "gentle affectionate books, celebrating diversity and challenging gender stereotypes." Rosa loves to play with cars just as much as Clive does, and Clive loves to play with baby dolls as much as Rosa does.
In Rosa Plays with Cars, "Rosa helps Mustafa pack up the camper. 'We are going to the beach,' says Rosa." In Clive and His Art, "Clive and Jeffrey thread beads," and "Clive looks at pictures in his big art book. 'Beautiful!' says Clive." My son really gravitated towards this series and Clive's cat named Moshi, especially. It was fun to read Clive is a Librarian with him since he loves the library, and there's a new series out with Rosa with STEM activities, such as Rosa's Big Sunflower Experiment. As a parent, it's exciting to find books that aren't so gender stereotyped. Not to mention the board pages are wonderfully durable!
How have you been coping with the April rain showers? In our house we've been reading and singing, Singing in the Rain! based on the Broadway song by Arthur Freed and Nacio Herb Brown with pictures by Tim Hopgood. This cheery book brings all the smiles to our family on dreary days. There are lots of beautiful spring illustrations with colorful umbrellas and rain boots. I think this book is a wonderful introduction to such a classic song and I always check it out this time of year. I always imagine Gene Kelly smiling and stomping through puddles while we sing it together as the rain pours down outside. "Come on with the rain! There's a smile on my face. I walk down the lane, with a happy refrain, and I'm singin'… singin' in the rain!" Happy Spring reading!
This week we are excited about spring blooms! Is there anything more delightful than watching sprouts and crocuses pop through the soil? We're shouting out, Make it Grow, by Debbie Powell. This lift-a-flap book has the most beautiful illustrations and demonstrates the way that flowers bloom. Not only does it include flowers, but also fruit, seaweed, mushrooms, and butterflies in all their different colors! I think that's what makes this spring-themed book different from some of the others this time of year.
The rhyming also helps the flow of the story as you go from page to page seeing nature grow in all its forms. It goes, "In the backyard rain comes down, making all the creatures frown, but thirsty flowers start to show… Lift the flaps to make them grow!" When you reach the end, there's a big rainbow to flip up and talk about all the colors you just named on all the other pages! This one was great to take along on a stroller walk while pointing out all the other colors coming up in our neighbors' gardens.
Happy Poetry Month! This week I was looking through the children's room stacks and found a wonderful rhyming picture book from 1994 that is bringing us a lot of delight. It's titled A House by the Sea by Joanne Ryder and is illustrated by Melissa Sweet. As the temperatures grow warmer, we are feeling called to enjoy a more tepid beach excursion in the coming weeks. This book is the perfect companion!
This book depicts a boy and a girl describing what it would be like to live in a house by the sea with carefree seals, an octopus neighbor, and friendly crab friends who play games with them. It goes, "If I could live in a little house, I'd live in a house by the sea. And I'd whisper at night when the moon was bright, 'Would you please give a wish to me?' Then I'd land on a whale with a black and white tail who would rock me fast asleep, and she'd carry me home on a crest of foam over the waters deep."
The rhyming poetry is where this book really shines. It has a perfect lulling rhythm with a nautical touch that is just giving us all the comfort feels this week. Not to mention, it is silly and fun, too! Do you have some favorite, lesser-known picture books from your childhood? It's fun to find them still available in the stacks! Happy Reading!
Feeling hungry? This week we're shouting out, "Amy Wu and the Perfect Bao," written by Kat Zhang and illustrated by Charlene Chua. This wonderful story is based on the author's real childhood experience of making bao buns with her family. Her character, Amy Wu, is a smart and sassy girl who is determined to make the perfect bao after feeling frustrated by a series of others that didn't turn out so well. It seems like no matter how hard she tries, they turn out too big or too small. Sometimes they have too much filling, or not enough. Her mother, father, and grandmother make beautiful bao for the steamer, but her bao still doesn't look as perfect as theirs.
As you read on, she discovers all by herself what she can do to improve her technique. This is such a great story on how to move through a frustrating task through a different cultural lens. It inspired Zeke to try some of the great local Asian-American dishes we had for take-out as well. There's even a recipe for how to make your own bao in the back of the book! Definitely check this one out and consider making something for our Edible Book Contest!
This week we are shouting out a very fun book called, Doing Business, by Shawn Harris. If you have kids who are particularly fond of bathroom humor, this book is for you. This book feels like an updated version of the classic, "Everyone Poops," by Tarō Gomi. In this book, we see a variety of different animals and ages of people and how they use the bathroom. My favorite part is that they're all wearing business coats. When some "bad business" appears on the living room carpet, the readers wonder, "Who's business is this?"
These bright colorful illustrations and silly expressions are a delight for kids and a great resource for transitions from diapers to the potty. Definitely check this one out (new to our collection!) for guaranteed giggles.
This week we're sharing a cute and silly book about Escargot the French snail. We absolutely loved this adorable snail character who wonders, "Why isn't your favorite animal the snail?" We loved snuggling up to read this book in bed with all the fun French expressions.
This book is also engaging because it's an interactive book; Escargot asks us to make a fierce face, to make a loud roar, and blow kisses. Escargot feels very strongly against carrots in his salad at the end of the book, however, after trying one bite of the carrot, he discovers they are magnifique! Have fun with this book, we certainly did while trying to master a French accent!
A few weeks back we were teased with some 60 degree weather and it had our family missing green grass picnics and tropical temperatures. Maybe you and your family are feeling ready for spring (or a warm vacation). Today we're shouting out a favorite title, Tropical Terry, by Jarvis.
This book has the most beautiful and colorful illustrations alone, but the storyline is super fun, too.
Terry is a sweet little fish living in the tropical coral reef, who wants nothing more than to fit in with the flashing, dashing tropical fish that shimmer and swish around in circles together. When Terry gathers up some shimmery seaweed and becomes as popular as he imagines, he discovers that being so eye-catching isn't the best idea when Eddie the hungry eel comes to town.
This story is beautiful, engaging, silly, and teaches a great little moral lesson. Definitely give this a request if you're looking to brighten up your week!
This week is all things TRAINS! We have been reading the book, The Littlest Train by Chris Gall, over and over again. We had a wonderful ride on the Wiscasset, Waterville, and Farmington train on Saturday and then had a great time watching the Maine3Railers model trains on Wednesday in the Patten Free Library's children's room!
This story is a wonderful adventure with a little toy train who falls off his train table and decides to discover the world beyond. He's able to meet the largest trains he's ever known and learn about what makes them different from each other. After traveling with Mighty Max, Sara Speedster, and Chloe Cogs, he's ready to return to his little village on the train table. But, how will he find his way home?
As I mentioned before, this book has been a major hit in our house and the illustrations give you something new to notice each time you read. It's been a fun week learning about all things locomotive!
Today we're excited to shout out a book from one of our very favorite picture book series, Katie and the Mona Lisa! In the Katie series, a curious young girl walks around museum galleries while her grandmother rests on the nearby bench. Katie is able to step in and out of famous paintings and interact with the subjects in them. In Katie and the Mona Lisa, Mona Lisa needs cheering up to bring back her famous smile. Katie and the Mona Lisa go traipsing throughout the museum visiting other paintings, such as St George and the Dragon by Raphael, Primavera by Sandro Botticelli, The Lion of St Mark by Vittore Carpaccio and An Angel in Red with a Lute by Giovanni Ambrogio de Predis.
These stories are the best way to combine storytelling with education to keep kids engaged and interested in fine art! Have you visited any museums lately or taken advantage of our free and discounted museum passes? Perhaps one of these books could inspire a visit! Happy Reading!
Have you ever jumped off a diving board? This week we're shouting out, Jabari Jumps by Gaia Cornwall. We're anticipating swim lessons at the YMCA and this book has been critical to helping overcome some nervous feelings about getting in the water. Featuring a beautiful Black family, Jabari, his sister, and his Dad are going to the community pool for a swim. Jabari is excited to jump off the diving board, but when he gets to the ladder, he starts to feel apprehensive.
"It's ok to feel scared," said his dad. "Sometimes when I feel scared I take a deep breath and tell myself I am ready. And you know what? Sometimes it stops feeling scary and feels a little like a surprise." Will we get to see Jabari jump? You'll have to check it out to experience the joy!
Today we're shouting out the book, "Bodies Are Cool," by Tyler Feder. I absolutely LOVE this book for it's wonderful inclusive message about all the different kinds of bodies we see here in the world. They point out different skin colors, disabilities, hair types, and body sizes.
As a parent, it's important to me to be able to share this message and normalize bodies in a way that's really engaging to kids. My son kept pointing out what makes each body different and beautiful and saying, "bodies are cool!" which is the joyful refrain on every page. Not to mention the illustrations are really beautiful and eye catching."My body, your body, every different kind of body! All of them are good bodies! BODIES ARE COOL!"
Grab your pillows and blankets! This week we're shouting out, "Fort Building Time" written by Megan Wagner Lloyd and illustrated by Abigail Halpin. We just LOVE building living room forts the past few weeks and I think this book may have been what's inspired them! This book takes us through the seasons of different kinds of fort building. In the winter, you can build snow forts, in the summer it's driftwood beach huts, in the spring you're exploring the forest, etc. The writing in this book is *so* inspirational and has you diving into each season with all five of your senses. Winter is described as a, "snowball-throwing, scarf-wrapping, sled-pulling, ice-sliding…dog-snuggling, cocoa-drinking, snowman-making, fort-building time!" The illustrations had me nostalgic for my own fort-building childhood. Definitely request this one for some cozy reading and building fun.
This week we are shouting out We All Play by Julie Flett. My son really connected with this book this week. It's gorgeous Earth tones in the illustrations made it easy on the eyes for me to read, too! Author/illustrator Julie Flett connects children and their playful behavior to the natural world in this one.
Flett incorporates the Indingenous Cree language (with pronunciation guide), adding a cultural layer to this pre-K perfect read-aloud. It's really fun to see the similarities of how a bear tumbles and plays in the snow and then illustrations of how, "we play too!" as kids and adults. I highly recommend this short and sweet one for snuggles and play time.
This week we are talking a lot about the months of the year! It can be tough for young ones to conceptualize the twelve months in each year, so we like looking at this really interesting counting book which involves counting up to twelve. At the same time, each page counts up from January to December. The first page is a blank wintery landscape with the number zero, and for the next page, it counts up to one and beyond.
There are no words; which makes it a great book for discussing and counting what we see on each page. There's a new building added to the village on each page, and lots of other fun things to notice and count. Sheets of laundry on the line, dragonflies in the air, children playing in the river, etc.
If you want to start off the new year with a great book for counting months and discussing the seasons, this is a great place to start!
Hello Readers! This week we are shouting out Flannel Kisses by Linda Crotta Brennan and illustrated by Mari Takabayashi. This is such a beautiful and simple book. With everything that's going on in the world, sometimes beautiful and simple is just what the doctor ordered; especially before bedtime for kids (and adults, too.)

This book really evokes the five senses of wintertime living for families, which I think makes it so powerful for such a short book. It starts off with, "Flannel sheets, Cold floor, Hot oatmeal, Out the door! Slippery snowsuit, Sticky snow. Pack a snowball, make it grow."

My son loves receiving "flannel kisses" from his Daddy after reading this book, which I find really heartwarming. Maybe you'll find it heartwarming, too. Happy reading!
Hello Readers! Our shout out this week is a beautiful, wintery tale of Coco and Bear trying to bring kindness to others in the forest. The title is Share Some Kindness, Bring Some Light, by Apryl Stott. Bear feels sad because his large size frightens many of the other animals. Coco suggests that he should show others kindness in order to build friendships with them.
Coco says, " My grandmother always says: 'When life gets dark as winter's night, share some kindness. Bring some light.'" They get to work baking cookies and making lanterns. Will they succeed? You'll have to request this book to find out! It's a heartwarming story with gorgeous illustrations. There are some children's books that bring delight and inspiration to me as an adult and this is one of them. Stay warm & cozy, and happy reading!
This week we've been listening to the music of Tchaikovsky's The Nutcracker Ballet to get into the holiday spirit, and watching the beautiful ballet dancing. Zeke loves dancing and singing to holiday music so I thought we'd read more about male dancers, since we see them represented less often than ballerinas; and still have so much to offer to the stage!
He absolutely loves this book, with the fun illustrations and rhyming text. There are beautiful examples of real-life male ballet dancers with the words, "Let these leading men inspire as you practice and perspire. Growing stronger day by day, dream of parts that you might play…Princes, pirates, villains, too. Slay the Mouse King in a coup!" I love that this book encourages boys to express themselves through dancing and that, "with dancing skills you're sure to soar in sports, at school, and so much more!" This book is great for girls and boys, alike!
If your kids love vehicles like Zeke does, then you'll LOVE the book, Big Rig, by Jamie Swenson and Pictures by Ned Young. This is a new book to the Patten Free Library collection, and I knew Zeke would love it. This is a really fun conversational read with lots of great sounds to make and cheeky phrases and rhyming. Frankie the semi-truck is excited to take you along for the ride to deliver his goods to Dinosaur Land.
He says, "Rain clouds? Not a problem. Wipers—do your job—SCHWAAT, SCHWAAT, SCHWAAT. Lights on–can't miss me, I'm like a Christmas tree. Looks like blue skies on the horizon!" With all the long holiday stories to read at bedtime, we also like to take a break, and indulge in some of our other comfort reads. It certainly has us appreciating all those who deliver goods around this time of the year!
This week we are enjoying a classic, The Mitten, by Jan Brett. As soon as the snow falls and we start bringing out the knitted items, I know it's time to indulge in some Jan Brett illustrations. My son is really loving this one this year. Brett is so good at adding another dimension to her stories by including the additional illustrations on the side of the page that show us what animal is coming next.
When Nicki drops his snow-white mitten in the snow, and all the animals in the forest start snuggling in, Zeke is excited to exclaim, "The Badger is coming next!" Though she has many wonderful stories, and we love to read them all, this classic is our favorite one of all.
The book we want to shout out this week is, "The More We Get Together," written by Celeste Cortright, illustrated by Betania Zacarias, with an accompanying CD sung by Audra Mariel and Kena Anae.
This book is a terrific adaptation of the classic, "The More We Get Together," song that adds in an age-appropriate introduction to recycling, activism, community gardens, teamwork and more. We're particularly focusing on gratitude this week as Thanksgiving plans are being made across the country.
The song goes, "Let's gather round the table, whenever we're able. Let's gather 'round the table with all of our friends.And with every plateful, we'll feel ever grateful. Let's gather 'round the table with all of our friends. 'Cause your meal is my meal, and my meal is your meal."
I love the books that integrate text, music, and illustration for a more complex experience. This book even has a Youtube animation of the story as well!
Hope this wonderful book & music can inspire some togetherness with your friends and/or family!
Our book this week is Day of the Dead inspired! It's titled, Gustavo the Shy Ghost written and illustrated by Flavia Z. Drago.
Our story is about a ghost who's very shy, but wants nothing more than to have some friends. The sweet illustrations show Gustavo being a shy little ghostie and being invisible watching the other little monsters play. Gustavo is a very talented violinist though, and finds joy in playing music. Gustavo builds up the courage to write the monsters a letter to invite them to a violin concert in the cemetery.
We love this sweet book about making friendships. It's great for reading any time of the year, but this week especially! We also requested this through Minerva as a Wonderbook copy so we could listen along to the narrator and the violin music it provides! It made for a wonderful experience.
This week we're feeling the chill of winter approaching in the wind! We've been shopping for new outerwear to prepare for Maine's cold temps as we bid the 70 degree days farewell. We had a lot of fun reading Bella's Fall Coat by Lynn Plourde and illustrated by Susan Gal. One afternoon, Bella's grandmother keeps trying to remind Bella that her coat is much too small and that it's time for a new one. But, Bella LOVES her coat, and loves doing all the wonderful things fall has to offer in her coat.
After falling asleep and dreaming of more, "bright orange leaves, crisp, juicy apples, and soft white feathers," she wakes up to a big surprise the next morning. We loved reading about Bella's fall adventures and the way she always "Whooshed!" out the door. Do you ever feel sad about saying goodbye to a coat you've outgrown? Bella gives us a good idea on what to do with it after it's seen better days.
This week as we lead up to Halloween, (or maybe you celebrate Día de los Muertos!) We've really enjoyed many evenings of reading Pick a Pumpkin by Patricia Toht and illustrated by Jarvis. This book really highlights the delight of picking a pumpkin and the creative enjoyment of making it into a jack-o'-lantern. Toht shows us how fun it can be to form a pumpkin carving crew and to how to get elbows deep into the guts and seeds of a pumpkin.
The illustrations by Jarvis are super, spooky fun without being actually frightening, in case you have some sensitive readers. The rhyming text is also really quality writing and never got old to me, even though we read this many times!
"Lift your pumpkin up with pride. March it to a place outside. Set it safely on the ground, and call the crew to gather round. Ask someone to strike a match. Watch! The candle's wick will catch. See it glow outside your door. LOOK! It's not a pumpkin anymore. It's a… Jack-o'-lantern!" When you turn the page and see the beautifully illustrated jack-o'-lantern, we smiled with glee each time. This book is great Halloween fun, I hope you enjoy it!
This week, Zeke and I want to shout-out one of our very favorite Dahlov Ipcar books: Hard Scrabble Harvest! As someone who grew up on a vegetable farm, I can relate to this wonderful book which playfully describes the joys and challenges of growing and harvesting food in New England.
One of my favorite pages reads, "Grapes on the arbor. Apples on the trees. Gather the tomatoes before they freeze. Bring in the apples. It's cider-making time. Fatten up the turkey. Fatten up the swine." It's just really wonderful and relatable rhyming text paired with the marvelous Ipcar illustrations. Definitely find a copy of this one to pick up before Thanksgiving, if that's a holiday you celebrate! And then stop by and admire the other Ipcar books we have on display near the children's room.
My shout out this week is a really fun interactive book called Tap the Magic Tree by Christie Matheson. Since the trees outside are changing their colors, it's a great opportunity to talk with children about the cycle of seasons and how trees change throughout the year. It's a great book to read at bedtime or outside on a nice autumn day. The book encourages us to "Pat the leaves—be gentle, please. Aha! Now blow a whooshing breeze!" And with each turn of the page, we've magically helped the tree along on its way throughout the seasons. There's rhyming text as well, which always helps children know what word may come next. We like to read this one in the Fall and Plant the Tiny Seed by Matheson in the spring. Happy Leaf Peeping, Readers!
The book we want to spotlight this week is Roller Coaster by Marla Frazee. With all the fairs happening all over the state, our little ones may be feeling excited or anxious about the wild rides one buys tickets to for enjoyment. Frazee gives us readers such a fun ride with this book! We follow the characters in the line of the roller coaster as tension builds to board the ride. Zeke loved the "clickity, clackity, clickity, clackity. Up. Up. Up!" and then the "Whoosh!" of the ride that truly makes us feel like we're on it.
We read this every night until it was due, and we spotted something new on each page every time. Marla Frazee has become one of our new favorite authors and illustrators in the way she's able to tell such a great story with just a few lines and imaginative illustration. Maybe it could inspire our young readers to be brave and give the rides a try!
I love reading this book written and illustrated by Kenard Pak as we transition from summer to autumn. We read it every year and we always try to read it outside! We follow a girl as she walks through the woods and her downtown observing the changes in the weather.
He writes about how the animals busy themselves getting ready for winter, how the cool wind asks us to "bring out your thick sweaters and scarves," and how "the sun sets earlier and earlier now that summer is coming to an end." I think he does a great job of capturing the happiness, but also the moodiness, of autumn in such a great way for kids. This book and the others in Pak's season series is how my son learned the changing of our Maine seasons. His illustrations are really simple, yet beautiful!